DBAs, Do you work with jerks?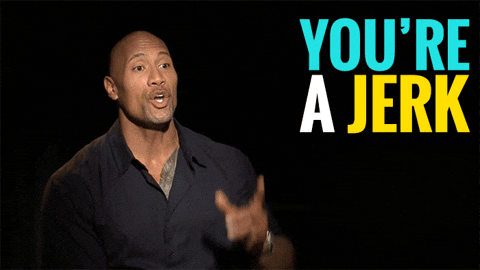 Book review of "Wait, I'm Working with Who?!?: The Essential Guide to Dealing with Difficult Coworkers, Annoying Managers, and Other Toxic Personalities" by Peter Economy. Economy is the bestselling author of Managing for Dummies and is The Leadership Guy at Inc.com. He has more than 1,500 columns published to date.
In their words " … go-to guide on working with anyone in your office-from the difficult or negative to the toxic and destructive …".
Ways that jerks affect everyone at the workplace
Lost productivity
High turnover
Calling in sick at critical project times
Excessive socializing
Company culture of ambivalence
Ways that bad bosses are jerks too
Unclear/changing expectations
Micro-manager
Avoids team/project involvement
Discourages personal development
Here's my takeaways after reading this book:
Take a simple approach to workplace challenges
Neutralize negative people and conflicts
Remove the buttons pushed by your jerk
Ignore the small stuff
Ok DBA colleagues, I hope you don't have to work with jerks! Ok everyone works with a jerk at some point in their career. When you do, this book will help you overcome the many obstacles that jerk causes. The book "Wait, I'm Working with Who?!?" by Peter Economy. gets a thumbs up! Right?
This blog post first appeared on Retireddba.com: https://retireddba.com/
Gif is provided by Giphy.com.
---

Search for additional blog posts:

---
Ad
Pluralsight – Start your Free Trial today! – Don't let technology outpace you. Work smarter and master your craft with a technology learning platform that will help you build better and create more.
Whizlabs – Online Training for Agile Certified Practitioner (PMI ACP)® Certification Exam | Enroll Now
Edureka – Enroll Now for Docker Training and Certification By Edureka and increase your chances to get hired by Top Tech Companies
ed2go – Creating Mobile Apps with HTML5
Pluralsight – Get your Skill IQ with a Free Assessment from PluralSight
---
RetiredDBA.com is compensated if you click to an advertiser website and/or you make a purchase after clicking to an advertiser website. This does not INCREASE the price you pay. The income is used to continue to provide as much free content as possible.
---