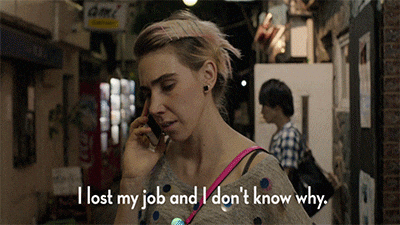 ---
DBA colleagues I hope you have not lost your job. The unemployment numbers on 3/26/20 was high and will probably go higher until the Coronavirus (COVID-19) begins to subside.
If you or anyone in your family, extended family, friends, neighbors and other colleagues were not so fortunate due to Coronavirus (COVID-19), I have a listed Unemployment Resources for all 50 United States.
DBAs colleagues please stay calm, stay safe, stay healthy, get your sleep and exercise. Right?
Unemployment Resources for all 50 United States – Updated 3/26/2020
Expect delays on all Unemployment websites and phones due to Coronavirus (COVID-19) unemployment applications.
In person office hours will be reduced or eliminated.
---
Do NOT apply for your Unemployment Insurance benefits too early.
Make sure your official last day or separation date is today or later before you apply for unemployment insurance benefits. Many larger companies may not officially terminate your employment for 2 weeks or more. If you were not given a written separation date and agreement or are unsure of the separation date, contact your company human resources department to clarify the exact last date of employment.
---
Apply for Unemployment Insurance benefits on the Internet
Now you can file your Unemployment Insurance claim via the Internet. Fast, easy, and no lines. many states have improved and expanded the internet filing for just about every type of Unemployment Insurance claim.
Make sure you have at least 30-45 minutes of dedicated time to fill out the online application. You will need your social security number and employment information.
There are a couple of rather tricky screens and a couple of questions that may seem odd, but make sure you enter all the information needed until you see a completed screen. When the online application is completed, you will be given a confirmation number and effective date of unemployment. Make sure you print this information or save to your disk drive.
---
Confirm and Continue Unemployment Insurance benefits
You should receive a letter from the Department that handles your state Unemployment Insurance claims within 10 -14 days to confirm your Internet Unemployment Insurance claim worked. If you do NOT receive a confirmation letter, you MUST go to an office in person to request help with your Unemployment Insurance claim.
To receive continuous Unemployment Insurance payments, you are responsible for maintaining your work search records on the forms provided on a weekly basis, for up to 26 weeks. You will be required to produce your work search upon request. Failure to do so may result in denial of Unemployment Insurance benefits. If you go to a local office, be sure to bring your work search record forms with you.
---
List of State Unemployment Insurance Websites
Alaska Department of Labor and Workforce Development
Arizona Department of Economic Security
Arkansas Department of Workforce Services
California Employment Development Department
Colorado Department of Labor and Employment
Connecticut Department of Labor
Florida Department of Economic Opportunity
Hawaii Department of Labor and Industrial Relations
Illinois Department of Employment Security
Indiana Department of Workforce Development
Louisiana Workforce Commission
Maryland Department of Labor, Licensing & Regulation
Massachusetts Department of Labor and Workforce Development
Michigan Unemployment Insurance Agency
Minnesota Unemployment Insurance (UI) Program
Mississippi Department of Employment Security
Missouri Department of Labor and Industrial Relations
Montana Department of Labor and Industy
Nebraska Unemployment Insurance Benefits
New Hampshire Employment Security
New Jersey Department of Labor and Workforce Development
North Carolina Department of Commerce
North Dakota Job Service North Dakota
Ohio Department of Job and Family Services
Oklahoma Employment Security Commission
Pennsylvania Department of Labor and Industry
Rhode Island Department of Labor and Training
South Carolina Department of Employment and Workforce
South Dakota Department of Labor and Regulation
Utah Department of Workforce Services
Virginia Employment Commission
Washington Employment Security Department
Washington, DC Department of Employment Services
Wisconsin Department of Workforce Development
Wyoming Department of Workforce Services
---
This information is permanently posted at this weblink: Unemployment
---
Don't forget to keep your job skills and career skills current!
All-State Career – All-State Career offers career education in commercial driving, dental assisting, skilled trades, healthcare and more with locations in Maryland and Pennsylvania. Visit All-State Career to learn more.
Coursera – You've got a deep network, a great resume, and a top-notch LinkedIn profile. Start building in-demand skills on Coursera, and your career will be ready to take off. Start your 7-day risk-free trial today.
– Take the world's best courses, online.
Fortis – Thousands have changed their lives with a Fortis education… Why not you? Imagine that new career you've always dreamed of. Visit Fortis to learn more.
FutureLearn – Become a better manager with online courses from FutureLearn. Join for free.
Lorman – Take Your Career to the Next Level with the Lorman All-Access Pass
Pluralsight – Start your Free Trial today! – Don't let technology outpace you. Work smarter and master your craft with a technology learning platform that will help you build better and create more.
Pluralsight – Get your Skill IQ with a Free Assessment from PluralSight
QuickStart – Double your earnings potential by subscribing to IT Technical Training Certification Subscription and get college credits from Texas A&M" – Click here for a 7 day free trial
Simon Sez IT – Subscribe to Simon Sez IT – Pick a plan to get the IT training you need right now!
Springboard – Online Courses to Future Proof Your Career
St. Paul's School of Nursing – Visit St. Paul's School of Nursing Blog to learn about a career in Nursing!
Whizlabs.com – OCEJPAD 6 Certification Practice Exams – JAVA WEB SERVICES CERTIFICATION EXAM (OCEJWSD) – PRACTICE QUESTIONS – Many other exam books and practice exams.
---
Please note that we are affiliates of advertisers. We are compensated if you click to an advertiser website and/or you make a purchase after clicking to an advertiser website. This does not INCREASE the price you pay. The income is used to continue to provide as much free content as possible.
---